Our Services
Transporting Motorcycles, Quads & Bicycles
Collection and Delivery across the UK
As bikers born and raised, we understand the importance of the safe transport of your bike. We have invested in specialist equipment and sought out the highest insurance, to give you complete peace of mind.
Our live GPS tracking means you know exactly where we are, with live ETAs through real time updates.
And yes, our prices are competitive too! With a UK wide customer base, including Scotland's highlands to every county and corner, we plan strategic routes each week to offer the best prices possible and pass these onto our customers.
Our Service Includes
We created the business that we wished existed. Some peoples dream machines are transported with a man and a van, no insurance and a lot of risk. We wanted to change this. We have invested in any area needed to offer a safe, reliable and risk-free delivery.
All of our collections and deliveries receive the following as standard.
Delivering motorcycles is why we exist! Motorcycles are at our heart, from classics and trials to superbikes and cruisers, we see them all. We witness the joy of delivery and the heartache of departure but we are proud to give you that complete peace of mind. 
Quad (ATV) Delivery
Quads (ATVs), both sporting and agricultural are also transported with the same care and commitment. Our ramps have the relevant width to accommodate most quads
Bicycle Delivery
As keen cyclists as well as motorcyclists we recognise the demand for transport of high end bicycles. We see bicycles that are more valuable than some motorcycles we transport, so should demand the same amount of care.
Need us to transport your ride?
Get a quick no-obligation quote to get things moving
Testimonials
Here's what our customers had to say about our delivery services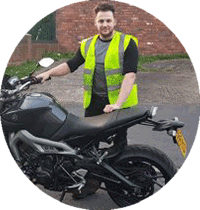 Just taken my delivery of my mt09! Baz was a great guy to deal with sorted collection and delivery within 15mins and got same day delivery! Can't thank him enough very professional and would 100% recommend him!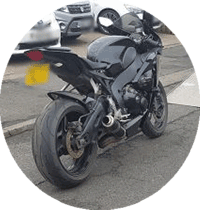 Great service. Very open and honest with regards to time and info you may need with very good prices, will 100% use in future. Cheers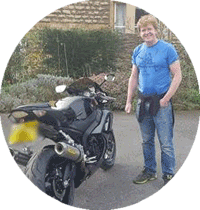 Bike delivered today from Sheffield great service really nice bloke, I would recommend. Cheers Baz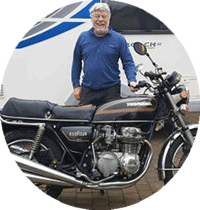 Excellent service. Great care taken to deliver safely! Thanks from a very happy Trevor!!!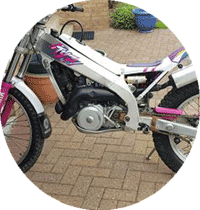 Thanks Baz for the first class service that you deliver, look forward to the next bike.
David Bruce
14. May, 2022.
recommends
Fantastic service, Fast delivery and at a great price. Highly recommended and would be the first person I call in the future👍
Nick Gamble
9. May, 2022.
recommends
What a long day, Sat anxiously waiting for my new baby to arrive, the wait was sooo worth it. superb from loading to securing in the van, and the drop off was excellent Well done guys, let's hope the Mrs let's me have more toys so I can use you again 👍🏻5*
John AndDebbie Ingham
10. April, 2022.
recommends
Today we took part in the squires egg run everything was good until the bike decided to brake down this white van pulled up hero of the day jumped out not only took us to ny500 but then took us home not all hero's wear cape would recommend these guys thanks again Barry and Connor Specialised Motorcycle Transport
David Bray
10. March, 2022.
recommends
Excellent service great communication all the way through the process 👍🏼
Shaun David
1. February, 2022.
recommends
Excellent service bile arrived perfect thank you
John Hollingsworth
10. August, 2021.
recommends
Good service and good communication. Very happy😊
Chris Holmes
29. July, 2021.
recommends
My second bike delivered by Baz, always super helpful and wouldn't trust anyone else to transport my bikes.
Mark Grimes
19. April, 2021.
recommends
Very professional - great price - on time - no drama .
Lorraine Lolly Roberts
12. November, 2020.
recommends
Just had a bike delivered today, great guys, very professional, tracking app was great
Mal Greenhill
27. October, 2020.
recommends
I totally recommend this company. Straight forward booking and professional from the start to delivery of my bike. Thanks again for your prompt response and professionalism. Regards, Mal. East Sussex